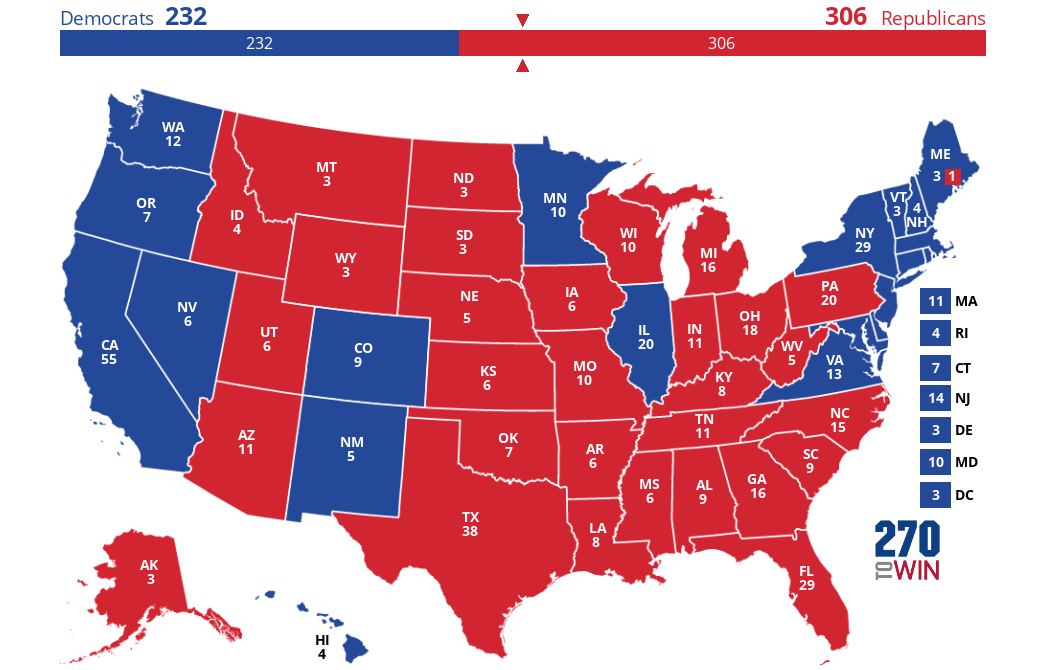 Click the map to create your own at
270toWin.com
Hillary CLINTON
Democrat
60,029,365
(47.7%)
232
California (55), Colorado (9), Connecticut (7), Delaware (3), Hawaii (4), Illinois (20), Maine (3), Maryland (10), Massachusetts (11), Minnesota (10), Nevada (6), New Hampshire (4), New Jersey (14), New Mexico (5), New York (29), Oregon (7), Rhode Island (4), Vermont (3), Virginia (13), Washington (12) + DC (3)
Donald TRUMP
Republican
59,769,452 (47.5%)
306
Alabama (9), Alaska (3), Arizona (11), Arkansas (6), Florida (29), Georgia (16), Idaho (4), Indiana (11), Iowa (6), Kansas (6), Kentucky (8), Louisiana (8), Maine (1), Michigan (16), Mississippi (6), Missouri (10), Montana (3), Nebraska (5), North Carolina (15), North Dakota (3), Ohio (18), Oklahoma (7), Pennsylvania (20), South Carolina (9), South Dakota (3), Tennessee (11), Texas (38), Utah (6), West Virginia (5), Wisconsin (10), Wyoming (3)
MAVERICK Donald Trump pulled off possibly the most sensational win in American electoral history yesterday after defeating Hillary Clinton to become the 45th President of the United States.
With Arizona still counting, and Michigan and New Hampshire classed as virtual dead heats, the final result in the Electoral College is yet to be confirmed.
However, if the current positions in each of those states holds, Mr Trump will eventually prevail 306 to 232, as above.
By contrast, in the popular vote, it is highly likely that Mrs Clinton will be confirmed as the winner, making it the second presidential election out of the last five in which the winner of the most votes has failed to gain the keys to the White House.
For the record, George W Bush beat Al Gore in 2000 despite losing the popular vote - something which my preview blog mentioned.
In fact, the Democrats have won the popular vote in six of the last seven elections, missing out only in 2004 when incumbent Mr Bush defeated John Kerry.
But all of these facts will be of little comfort to Mrs Clinton. The hopes of the 69-year-old becoming the first ever female US President now appear to be dashed forever.
The election night itself made its customarily quiet start as states such as Maryland and
Massachusetts for the Democrats

, and Tennessee and
Texas for the Republicans, were allocated to their respective columns.
Just after 3am GMT, with no swing states yet called, Mr Trump held a 140-109 lead in the Electoral College. But then came the first blow for Mrs Clinton.
Ohio - a state which has backed the winner of every presidential election since 1960 - lived up to its bellwether reputation by being called for Mr Trump.
And, startlingly, the 70-year-old
billionaire took the Buckeye state by nearly a nine-percent margin, a 12-point turnaround from four years ago when Barack Obama won it for the Democrats.
Better news followed for Mrs Clinton as she secured the electoral votes from Colorado and then, narrowly, from Virginia. However, early reports from Michigan and Wisconsin hinted at yet more trouble for her in the Mid West.
At 4am GMT, the Pacific coast states declared and the massive haul of 55 electoral votes from California put Mrs Clinton into the lead in the Electoral College.
But, as soon as the cheers over the California result were dying down at Clinton HQ in New York, North Carolina was declared for Mr Trump.
Thereafter, it became one-way traffic in terms of the most important results. Mr Trump took the perennial swing state of Florida just after 4.30am GMT, and followed it up by securing neighbouring Georgia just before 5am GMT.
However, the last knockout blows for Mrs Clinton were still yet to come.
Shortly after 7am GMT, Mr Trump would became the first ever Republican candidate to win an electoral vote in the north eastern state of Maine, which splits its vote by district. More crucially still, he then became the first Republican to win Pennsylvania since 1988.

Within minutes of that, it became clear Mr Trump had, in fact, repeated this feat in Wisconsin - and those 10 electoral votes were enough to put the Republican over the magical mark of 270 officially.
Notably, Mrs Clinton had not visited the Badger state even once during the general election campaign.
True, Wisconsin had been so reliably Democrat for the last 28 years that it might have seemed a waste of energy and resources - and, yes, this point relies a lot on hindsight.
Nevertheless, such complacency, looking back, now seems astonishing. After all, the Mid West has threatened to drift away from the Democrats for years.
In the 2012 election, Mr Obama arguably only secured the support of Michigan after he promised a bailout to the world famous but now much suffering automobile industry in Detroit.
Unfortunately, for such areas, the decline in manufacturing has gone on for so long now that there is a sense of permanency about it.
Small-town America - including many places in the rust belt - can be a hopeless, desolate place for their mainly white working class communities.

And it should therefore come as no surprise that this is where the roars against the establishment and the political elite have been at their loudest.
Some commentators have called it a whitelash but such analysis is far too simplistic and the complaints of these people - who just happen to be white, working class - are as much about economics as race.
Indeed, analysis of the white vote will not on its own explain the election result as a whole.
For a start, the Clinton campaign also struggled to enthuse enough black or Hispanic voters with turnout for the Democrats well down on the last two elections.
Certainly, though, it was in the Mid West where this election was lost by Mrs Clinton - in Michigan and Wisconsin especially, where she had also earlier lost both Democratic primaries to another political outsider Bernie Sanders.
Of course, it is impossible to know at this stage if Mr Sanders would instead have beaten Mr Trump. Surely, though, a Sanders candidacy would have given those angry anti-establishment voters in the Mid West something more to think about.
For a start, he may have paid those people some attention and listened to their concerns so that they did not simply lash out and desperately cross their ballot against Mr Trump's name in the vague hope that something somehow might change.
After all, even many Republican voters have admitted Mr Trump was, at best, a rather dysfunctional candidate for them.
The New Yorker, nonetheless, was still good enough to win - and, with Republicans having also retained control of both the House and the Senate, it would be fair to say the world became an even more uncertain place this week.
It could be a long four years with Mr Trump as President - and, following an election which changed the shape of the political map in America, it might well be eight.